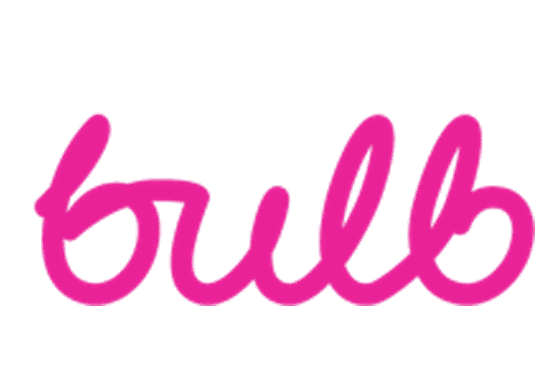 Bulb Energy is an innovative green gas and electricity supplier based in London that, offers just one tariff. Their unique tariff is comprised of 100% renewable electricity and 10% renewable gas and is tailored to making energy "simpler, cheaper and greener". Their renewable gas comes from biomethane which is produced from organic matter such as sewage and manure. By investing in technology, Bulb says it is able to keep their prices low. In fact, they claim to be 15% cheaper than any of the Big Six energy companies.
Bulb Energy Customer Rating
In the annual Which? Energy Supplier Satisfaction survey, Bulb Energy was voted joint 10th out of 30 energy companies. On Trustpilot, Bulb is rated 4.6 out of 5 stars.
FAQs about Bulb Energy
If you're after more information about Bulb Energy, look no further. Find the answers to your frequently asked questions below.
Does Bulb Energy have an app?
Yes. Bulb Energy's app is free to download on both Android and iOS.
Who owns Bulb Energy?
Bulb Energy is fully owned by the founders, investors and its employees. According to the energy supplier, "everyone who works at Bulb Energy has a stake in the business".
How does Bulb Energy buy its electricity?
Bulb Energy only supplies renewable electricity that comes from solar, wind and hydro. They claim that every unit of electricity they supply can be traced back to a renewable source.
Does Bulb Energy have fixed prices?
Unfortunately, Bulb Energy's prices aren't fixed. They offer only one tariff and prices can rise as wholesale energy costs do.
Can I switch to Bulb Energy with a smart meter?
It depends. You can if you have a second-generation smart meter (SMETs2). If you have a smart meter that was installed before 2019, it's likely to be a first-generation smart meter (SMETs1). These smart meters are not yet compatible with Bulb Energy.
How to read a Bulb smart meter
To read a Bulb smart electricity meter:

Press the 'A' or 'OK' button until you see 'Total Act Import' displayed.

All the numbers before the decimal point will be your meter reading.

If you're looking for your Bulb gas smart meter reading:

Hold down the 'A' button until the meter "wakes up".

Then, keep pressing the 'A' button until you see 'Meter Index' displayed.

Your meter reading will look like this '00XXX.XXXm3.

The true reading will be all the numbers before the decimal point.
How to contact Bulb Energy
You can get in touch with Bulb Energy:

By email at hello@bulb.co.uk

Over the telephone on +44 (0) 300 303 0635.

On Twitter via @bulbenergy
Compare gas and electricity deals
We monitor the market and automatically switch you to better deals for free.