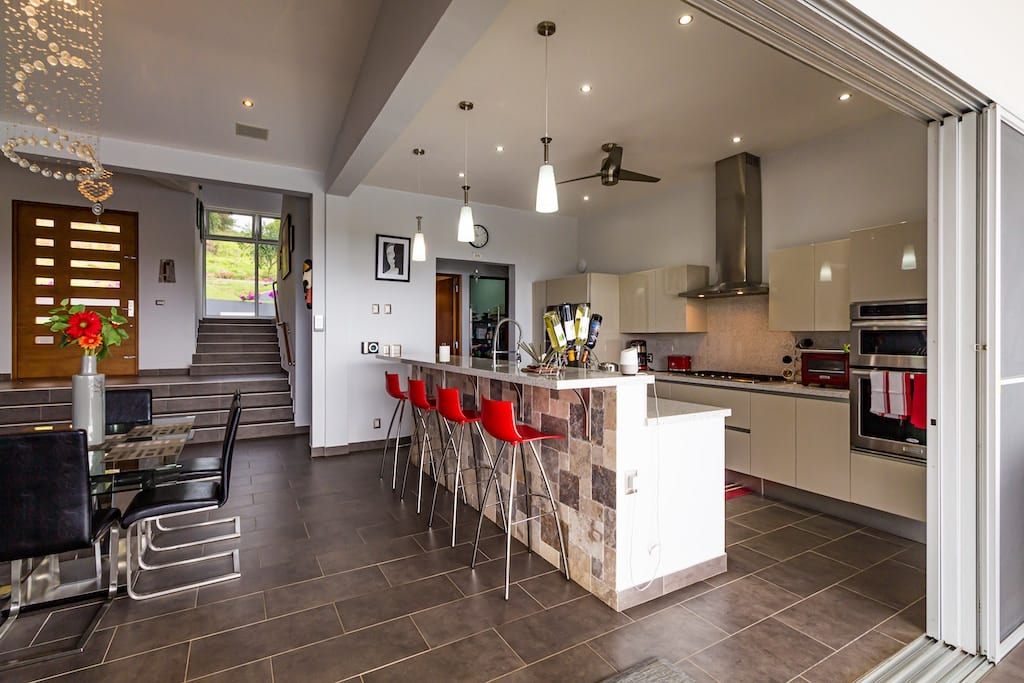 When it comes to boilers, knowing the difference between one boiler and the next and, which is right for your type of property could save you time, hassle and a lot of money. Continue reading to get the lowdown on the most common boilers in use in the UK.
What is the best boiler?
That's a great question. The answer is the best boiler is one that suits the size of your property and your water and heating consumption.
By law every new boiler that's installed in the UK must be a condensing, i.e. the water vapour produced during the combustion process should condense back into liquid form to release latent heat. Here are the most popular boilers in Great Britain:
Combi boilers
Combi boilers (or combination boilers or combis) work by heating water directly and instantly from your mains so there's no need for a hot water storage unit.
Compare gas and electricity deals
Our technology works 24/7 to keep you on great energy deals. Lower your bills by switching to our free service.
These qualities mean they are both energy-efficient and compact in size and therefore, ideal for smaller properties.
Combi boilers are some of the most popular boilers in the UK and their name comes from the fact that "combis" combine both control of your hot water and central heating.
Pros
Space-friendly if you have limited space
Instant hot water so no need to wait
Cheaper installation and maintenance.
Cons
May not be suitable for homes with more than one shower
No back-up water supply if the boiler breaks down
Power showers may not be compatible with combi boilers.
System boilers
System, closed-vent or sealed system boilers are the ideal choice if you have a home with more than one bathroom.
System boilers heat cold water directly from the mains supply via a heat exchanger.
The heated water is then pumped into a hot water cylinder where it is stored. This makes supplying multiple taps (i.e. bathrooms, kitchen etc) at home with hot water all at once possible.
Pros
Most heating system components such as the expansion vessel and pump are built into a system boiler meaning it saves on space
Hot water is available around the clock
Compatible with solar thermal systems.
Cons
If you don't have sufficient space, finding a home for the hot water cylinder could prove difficult. An airing cupboard would be the ideal spot for your cylinder
Space and cylinder size will affect how much water you're able to use
The cylinder may need insulating to prevent energy (heat) loss.
Conventional boilers
Conventional boilers are also called regular, heat-only, open vent or traditional boilers. A conventional boiler requires a cold water storage tank to feed the hot water cylinder.
Conventional boilers also work with a tank to maintain your central heating's water level. Once the fuel, either gas or oil, is fired-up, it powers a heat exchanger.
The exchanger warms up the water and a pump transports it to a hot water storage tank where it stays until needed.
Pros
Ideal for areas with low water pressure
Can support multiple bathrooms
Easy to install in homes with traditional heating systems
Compatible with solar panels.
Cons
Needs to work with multiple parts so, therefore, takes up a lot of space
Hot water isn't instant
Complicated and expensive to install in modern buildings.
Switch your energy supplier
To get the best deals, you need to switch energy providers. Use our technology to compare energy or compare electricity deals and see how much you could save on your next energy bill.
About Switchcraft
We believe that everyone deserves a fairer deal on energy. Switchcraft is a free auto switching service that continually scours the market for better energy deals. Sign up in 3 minutes, and after that, we'll automatically switch you to a better deal each year.